Tile Backsplashes
For those seeking an alternative to traditional paint or wallpaper, a tile backsplash presents an artistic and functional solution. Fully customizable, your tile backsplash is quick and simple to install. It's the perfect way to protect your bathroom and kitchen walls from everyday splashes and splatters. We predict, however, that you'll love it so much that you'll be tempted to venture into the bedroom or living room once you're done.
Tile backsplashes are hardly a new concept- in fact, they've been gracing homes and public spaces for centuries – but they're currently high atop the list of home design trends. Your new tile backsplash allows you to truly express your creativity. There are thousands of material, color, size, and pattern combinations to choose from, so you can rest assured that your new backsplash will be one-of-a-kind.
At Alexanders Carpet One Floor & Home, we're proud to be your local source for all things tile, and our tile experts can help guide you towards products that are 100% your perfect fit. Are you seeking some additional inspiration? You'll love this video segment on how a simple tile backsplash can dramatically improve the aesthetics and function of your kitchen, while keeping true to the current trends.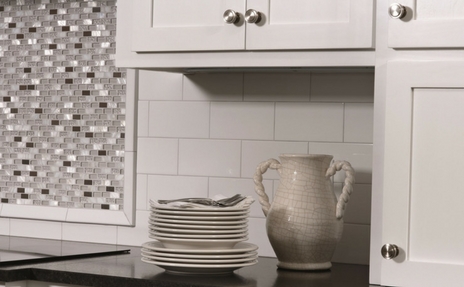 Types of Tile for Your Backsplash
Tile is truly an eclectic décor medium, with new products constantly appearing on our shelves. With so many choices and options, choosing products to accommodate your style and function needs is a breeze. Choose from ceramic, porcelain, stone, or even metal tile, offered up in a universe of colors, hues, shapes, textures, and patterns for a custom backsplash that's a perfect fit for your space.
Shop Our Backsplash Tile Collection
Alexanders Carpet One Floor & Home is ready to make your backsplash dreams a reality. As locally-owned member of Carpet One Floor & Home, the world's largest cooperative of independent flooring store, we can offer you the purchasing power of nearly a thousand stores nationwide, along with the localized care only your trusted neighbor can provide. That means you'll find all the tile products you're looking for, at a price you'll feel great about. Visit our showroom, located at 6646 S. Staples Suite 106 in Corpus Christi, TX, and explore our colorful world of tile products.
At Alexanders Carpet One Floor & Home in Corpus Christi, we are proud to offer tile backsplashes to the area of Padre Island.