Tile That Looks Like Wood
In kitchens, bathrooms, basements, and other areas where moisture is an issue, hardwood flooring isn't suitable. But, you can still add real wood looks to these settings by choosing wood look tile. Wood look tile combines wood's natural appearance with tile's wear resistance and moisture resistance.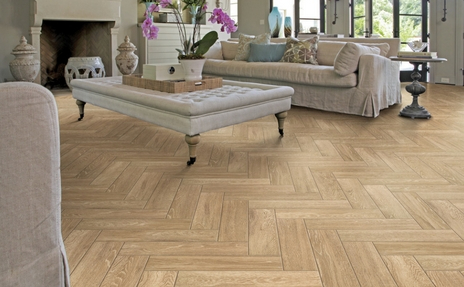 How Is Wood Look Tile Made?
Wood look tile, like any other floor or wall tile option, features a real ceramic or porcelain construction. In fact, it is made the same way as ceramic and porcelain tiles. Therefore, wood look tile is can handle everyday wear and tear, as well as moisture and heat. What gives wood look tile its natural wood appearance is its surface. Using innovative digital printing technology, a real wood image is added to the surface of the tiles. This image features the grains and knots that you'd expect from real hardwood. Also, wood look tile is cut into plank sizes, and it is often textured for added authenticity.
Where Can Wood Look Tile Be Installed?
Like any other tile option, wood look tile can be installed pretty much anywhere in the home. It is especially popular in kitchens and bathrooms. You can even choose some high-end porcelain options that are suitable for outdoor patios.
Wood look tile is available as floor tile and wall tile.
Our Tile Selection
At Alexanders Carpet One Floor & Home in Corpus Christi, we have you covered when it comes to tile. As part of our selection of top tile brands, we have Daltile, Emser Tile, and Happy Floors, among others. Each offers premium wood look tile styles, so be sure to visit our showroom to learn more.
At Alexanders Carpet One Floor & Home in Corpus Christi, we are proud to offer wood look tile flooring to the area of Padre Island.